Zed Plus Automotive Paints
Zed Plus Automotive Paints : Zed Plus, an Enamel, Alkyd, Polyurethane, based automotive paint, was integrated from,Tedi Paints. And one of the good quality brand in the categeory of automotive paints, It is the quality leader amongst the Alkyd automotive paints and has consistently held in a market.
The shade range available includes about 110 'solid' shades and 70 'metallic' shades. And 35 (pearl & bobby Colors) The various products that are available under this brand are Tedi Primer, Clear, Thinner, Putty, Bodyfiller.
Tedi has unmatched coverage, dries quickly, high gloss level, Good Distinctiveness of Image(DOI) feature giving mirror like finish.
It can be applied on cars, vans, trucks, three wheelers, two wheelers, refrigerators, water / air coolers, industrial machinery, etc.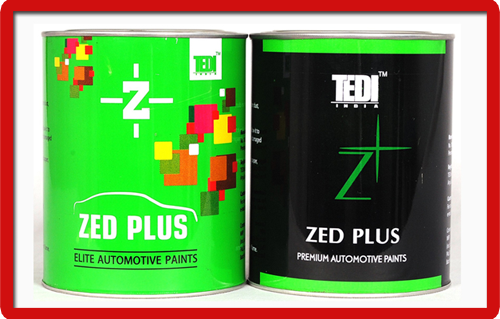 Description
TEDITM ZED PLUS is a perdurable, long lasting, quick touch drying topcoat paint used for all cars and commercial vehicles. It's excellence in glossiness and colour made as an automotive refinish.
ZED PLUS automotive Paints come out in two brands as PREMIUM and ELITE.
Safety, Security, Health and Environment
Our product is subjected with all standard and professional painting techniques and hence used by all painting professionals. Store in dry and ventilated place. Keep away from direct sunlight and open flame.
Avoid contact with eyes and mouth. In case of contact, seek for medical advice with a prior safety measures such as washing with plenty of water.
During spray painting use of appropriate safety measures is recommended with goggles, gloves, protective clothing. Do not dispose the remnant of the product and related items in water bodies.
Polyurethane Paints
The cost of Eco PU was a hurdle in upgradation of alkyd paints users to polyurethane(PU) Paints. TEDI Paints identified this gap and introduced ZED EYCON & ZED PLUS in the emerging low cost PU for Commercial Transport segment.
The highlight of our brand has Dries Faster, Shines Brighter within 15 minutes. ZED EYCON & ZED PLUS is an Acrylic PU system which suits the commercial vehicle market.
HIGHLIGHTS
With s superior coverage and a faster dry time, it reduces the reworking and a faster dry time means it catches less dirt.
ZED EYCON & ZED PLUS offers the commercial vehicle a wide range of product- primer, thiner, clear coat and solid shades.
ZED EYCON & ZED PLUS works well on commercial vehicle like Taxi, Auto rickshaw, Light commercial vehicle, Dumper, Tipper, and Load carrier Trucks.